This week in our Maker's Space we will be making Recycle-Bugs! This is a great way to creatively re-use your single use plastics while celebrating spring. We will have all of the supplies to make these available in our Maker Space at the back of the museum, so feel free to stop by, play, and make a craft! If you aren't able to come to the museum, you can check out the tutorial below to make your own bugs. They can be a bug you've seen before or a bug that lives in your imagination! 
To create a bumble bee you will need one black lid ( I used an old coffee lid), yellow construction paper, google eyes, cupcake liners, and a puff ball. If you don't have googly eyes or cupcake liner, you can easily make your eye and wings out of construction paper. 
Cut out two strips of yellow construction paper and tape of glue them to the lid leaving a black stripe in the middle. Cut the excess paper to fit the size of the lid. Next, cut your cupcake liners in half and fold in half to create your wings! Now you have a bee-utiful piece of artwork!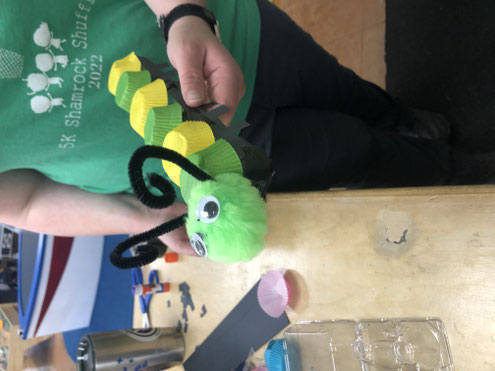 To make a caterpillar you will need an egg carton, cupcake liners or construction paper, pipe cleaners, googly eyes and a big puff ball! Cut your egg carton in half vertically and lay it on a table with the round side facing up. Glue or tape your colored cupcake liners or construction paper on top of each bump. Next, cut some legs out with your construction paper and glue or tape them to each side. Attach your big puff ball to make your caterpillar head and add some pipe cleaner antennae and goggle eyes.
Don't have these supplies at home to make this craft? Don't worry! You can come into the Cheshire Children's Museum this week and visit our maker's space to create your own bug. We hope to see you soon!